Leider ist diese Nachricht momentan nur auf Englisch vorhanden:
20. Dezember 2017
Happy Holidays from the MAPILab Team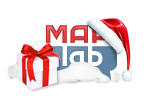 We worked hard in 2017 and hope you are satisfied with the results. User feedback was and always will be important for the MAPILab development team as a source for insight into usersí requirements for our products.
Here are some of the highlights of the year: a list of updates we made with your help and advice:
Thank you all for involvement, cooperation, feedback and for choosing MAPILab products in the year 2017! We're looking forward to offering more improvements and new features in the next twelve months. Wishing you all a healthy, happy and safe 2018!
Please note that our Support and Sales departments will work non-stop during the holidays, and some short delays in answering may occur from Dec 21 - Dec 24 and Dec 30 - Jan 2.
Newsliste