Measuring email campaign performance is an essential feature for bulk mailing. Mail Merge Toolkit allows tracking of mail merge using Google Analytics. Now it's possible to know if an email has been opened or read.
Configure email opens tracking in Mail Merge Toolkit
To count the number of emails opened by recipients, you need to:
Activate the Track messages feature in the Sending options
Specify your Google Analytics ID that looks like UA-XXXX-Y. If you don't have one yet, register for free at the Google Marketing Platform.
Select the Campaign name to be shown in reports: the email subject or any custom text.
That's it. Once you send messages, Mail Merge Toolkit will generate personalized emails with the embedded tracking code. This will enable you to measure email open rate in Google Analytics reports.
Track clicks in mail merge campaigns
To track recipients clicking links in sent emails, a different method is required – creating a special advertising URL with custom campaign parameters included. Recipients that visit a target website via those links will be also available in Google Analytics reports.
It's highly recommended to use one of the following three tools for generating valid URLs:
Mail Merge reporting and analytics
To review the results of your email campaigns, you have to login to Google Analytics and select the relevant web property.
First, check the Events report in the Realtime group to see users open emails as it happens.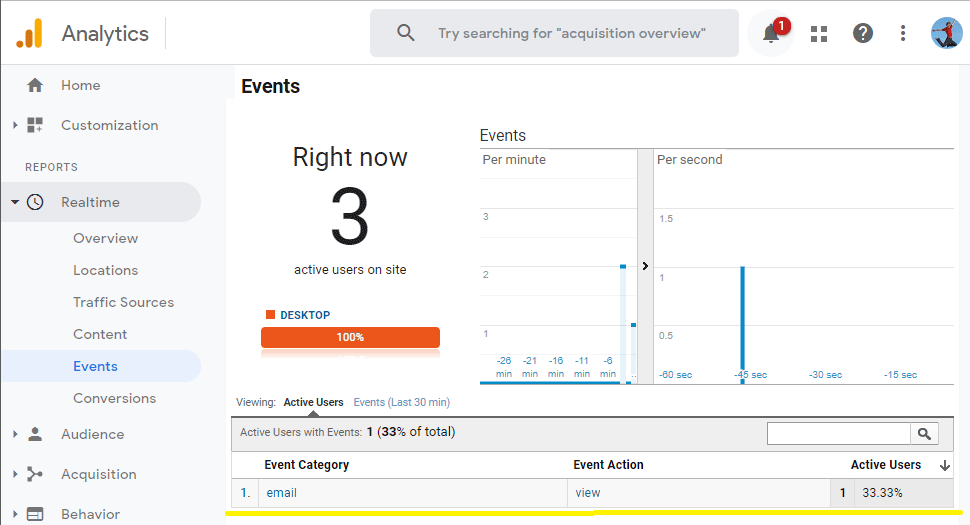 Then, by opening the Events reports in the Behavior group, tracking statistics can be reviewed for any specified period of time. And adding Campaign as a secondary dimension allows the breakdown of information by the Campaign Name specified in the Mail Merge Toolkit settings.
By analyzing the email opens and link clicks, you can significantly improve your email marketing strategy and reach out to people in the most effective way.
Please note: the Message Tracking with Google Analytics feature is included only in Mail Merge Toolkit PRO edition, but you can download and try it in a free trial mode.